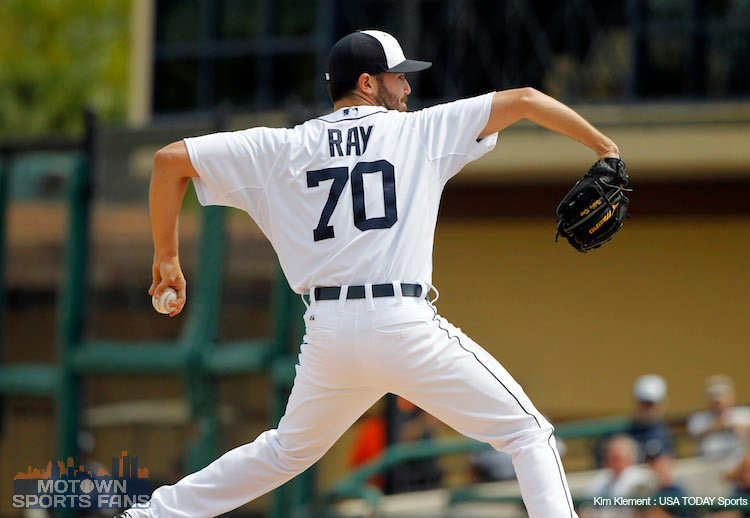 Robbie Ray Shines in Detroit Tigers Debut
When Dave Dombrowski pulled the trigger on a deal that would see Doug Fister head to the Washington Nationals, in essence for LHP prospect Robbie Ray, it wasn't a popular decision to say the least. Fister was a key member of the rotation for Detroit, but his inflated salary wasn't going to fly for a number 3. Anibal Sanchez's trip to the DL opened the door for Ray's early Tigers debut. We initially figured to see Ray in 2015, or perhaps as a September call up, but he has thrown well in his six appearances with Toledo. Oddly enough, Detroit fans were able to get a glimpse of what we received in the Fister deal, before the Washington fans could see Fister throw a pitch for the Nats. Fister has been on the shelf since spring training, suffering from a couple of injuries to his elbow and lat.
Robbie Ray made his first start for the Detroit Tigers on May 6, 2014. Ray hardly looked like a green rookie. He showed maturity and poise, especially after giving up 2 of his 5 hits allowed to the first two batters he faced. Jose Altuve punched a blooper down the line for a double, then a defensive misplay gave Fowler a single, pushing Altuve to third. With runners at the corners and no outs, Ray struck out the next two batters and got the third out on a routine grounder to short. From there, Ray settled into a rhythm, until he was lifted in the 6th. When it was all said and done, Ray pitched 5.1 innings, striking out 5 batters and allowing one walk. Houston managed a single run against him.
The bullpen was sharp, with Reed and Alburquerque doing their jobs effectively. The only hiccup was in the ninth. With the game way out of hand, Justin Miller was sporting an ugly change, giving the Astros 3 runs on the same number of hits. Offensively, the Tigers did their part in supporting the rookie southpaw, plating runners in three of the first four innings. Every starting Tiger produced at least one hit, and six Tigers had multi-hit games. Oh yeah, the so called "low powered" Tigers offense has accomplished this feat in 4 of the past 5 games. During that 5 game stretch, Detroit has banged out a measly 66 hits. You feeling my sarcasm? Hopefully, the pre-season naysayers will finally shut their yaps, and start cheering for their team!
The bottom line: Ray looked promising, the Detroit Tigers have the best winning percentage in the MLB, and they extended their winning streak to 7 games.
GO TIGERS!