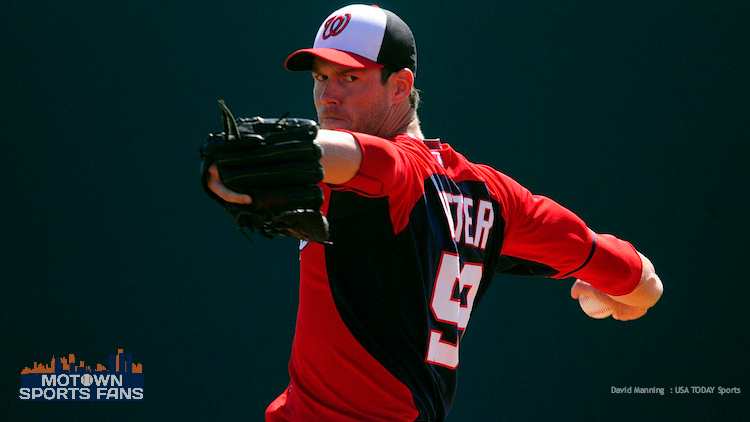 Reflecting on the Doug Fister Trade
Remember When?
On December 8, 2009, the news broke. Dave Dombrowski had brokered a deal that would see Curtis Granderson and Edwin Jackson leave Detroit. Fans and media cried foul. This was the "worst trade ever". Remember that? We got rid of an all-star center-fielder for an unknown commodity and a second rate starter? Oh yeah, that second rate starter happened to win the AL Cy Young last season. The prospect is now the every day CF for the Tigers, who happens to hit close to .300  (even higher when not leading off). 😉 Sometimes, a couple of seasons puts some much needed perspective on a particular trade. GM's aren't accustomed to tipping their hands to the public in order to appease the outcry from fans. Dave Dombrowski manages to continues to allow the Tigers to field a competitive team, despite the changing landscape. Detroit was in the World Series in 2006, their first appearance since the "Bless You Boys" days of 1984. In 2013, they were in the ALCS, despite only having 1 player from the '06 roster. The GM of a franchise that is built to win, is forced to continually adapt and make moves for the future, without dismantling the winning chemistry of the present. They don't have the "luxury" of rebuilding years. Sometimes their deals may not make sense at the time. Sometimes they make mistakes. Sometimes…they actually know more than we do.
All that to say, "stop crying about Doug Fister". Ok, so the motivation was shift salary, but if the intention was to free up capital to re-sign Miguel Cabrera and Max Scherzer, the same guy fans were upset about receiving in the Granderson deal, we can live with that. You can't have everything, all the time. Detroit has one of the highest payroll's in baseball, and they are expected to contend annually. Signing Scherzer is a high priority for Dombrowski, and the Tigers will need to break open the piggy bank to keep him here. The piggy bank was Fister.
In addition to giving some flexibility to the payroll, the Tigers wanted Robbie Ray. Actually, they had a plan, as the Dombrowski led front office always does.
"We had a list of about 15 pitchers that we would consider in various deals. He was one of the 15. The other 14 people said no. And (the Nationals) said no at first." – Dave Dombrowski
Detroit didn't settle for Ray, they targeted him. This deal was brokered over a period of about 3 weeks. If it was so lopsided in Washington's favor, don't you think they would've pulled the trigger on day 1? Their objective was to make a move that would allow Smyly a spot in the rotation, while acquiring a left-handed arm that will be big league ready by 2015. That is exactly what they got. This was a calculated move, and not a trade that was made on a whim. Time will be the ultimate judge, it may be a winner, it may lose, but it wasn't the knee-jerk type of move that it is being portrayed as.
Fister's Elbow
Perhaps you've heard about his elbow soreness. Fister has thrown all of 2.0 innings for the Nats, and now he's shut down. Washington's manager, Matt Williams, is po- pooing the injury, saying ridiculous things like he isn't concerned about it. This is exactly what the Nats said after Drew Storen's April 2012 elbow inflammation, and just 3 weeks later Storen was under the knife. If Fister's elbow issue becomes anything more than the mysterious, unexplained inflammation for no reason that Washington proclaims, Tiger fans will quickly forget about how upset they are with Dombrowski.
Rick Porcello's 2014 Projection
Why Detroit's 2014 Rotation is Equal to 2013
Granted, the Fister deal didn't give Detroit any noteworthy position players. They did add a quality left arm to the bullpen, Ian Krol, as well as a promising future starting lefty in Robbie Ray. It also allows the Tigers to slide Smyly into the rotation. If Smyly can come close to matching the 2013 production of Porcello ( 13-8 ), then the 2014 rotation will be just as solid as 2013's. Why am I comparing 2014 Smyly to 2013 Porcello instead of Fister? Because, 2014 Porcello will equal or surpass Fister's 2013 record of 14-9.  (See Scouting the 2014 Tigers New Additions)

Improved Infield Defense
With the acquisition of Ian Kinsler and having Jose Iglesias as the every day shortstop, while losing Prince Fielder, the Tigers infield defense is much improved compared to recent years. Fielder's exit moves a capable Cabrera to first, leaving the only possible weakened position at 3rd, with rookie Nick Castellanos. The improved up the middle defense will display itself in the box scores, and no pitcher on staff will benefit more than Rick Porcello.
Rick Porcello had a rough start to 2013, but he worked through it, and ultimately became a better pitcher. In 2013, Porcello produced ground balls on 55.3% of balls in play, as opposed to 23.7% fly balls (2.34 Ground Ball to Fly Ball ratio). He also continued with his usual low rate of walks, allowing them in just 5.7% of batters faced. The stat that sticks out as a negative, is his ERA of 4.32. There are metrics which measure what a pitcher's ERA should be, if they had an average performing defense behind them…which the 2013 Tigers did not. These tools show that Porcello's ERA should have been at least a full run lower. This year's improved defense will show itself in Porcello's final line, especially with his exceptional ground ball producing style. Rick Porcello, believe it or not, will win 14-16 games in 2014. Not bad for a #4.
What do you think?
How do you think the Tigers' 2014 rotation compares to 2013?
Will an extended DL sting for Fister make you forget/forgive Dave Dombrowski?
How many wins will Porcello and Smyly have in 2014?