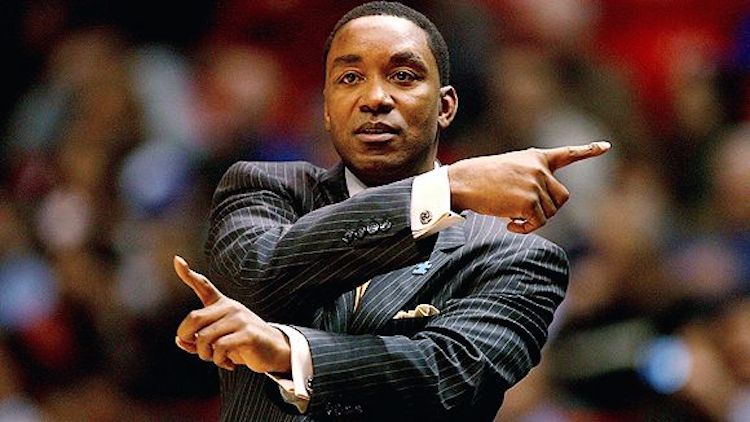 No, Isiah!
Incredible. The rumor today is that Tom Gores is going to offer Joe Dumars' position of President of Basketball Operations to none other than Isiah Thomas. Oh…my….goodness. Has Tommy followed Thomas' horrible career? At least the suit and tie portion has been nothing less than disastrous. Ok, all respect is due to Isiah Thomas, first ballot HOF'er, leading the Pistons team against Jordan's Chicago Bulls and Magic's LA Lakers for back to back Bad Boys championships. That being said, as much as I love the "Zeke" of the Bad Boys, I equally despise the administrative side of Mr. Thomas' career.
How bad could he be?
Having Isiah Thomas in the Pistons head office will decimate this team. If you are unhappy with the Joe Dumars era, you'll hate a Thomas led one ten times as much. Really, the only positive that Isiah Thomas brings, is an ability to identify and draft talent. Unfortunately, he has a track record of dealing away his picks for over-priced bums, so you will never see that.

Any Doubts? Ask a Knicks Fan
Our beloved Isiah Thomas is so hated in the Big Apple, that a player for the Sacramento Kings, who happens to bear the same name (different spelling), is continuously booed by Knicks fans. Really! Just because the guy has the same name. In Zeke's 4+ years in New York, he routinely traded away draft picks for has beens. He traded two lottery picks, among others, for Eddy Curry, and gave huge contracts to marginal role players like Jerome James and Jared Jeffries. He also fired HOF coach Larry Brown. By the time Thomas was relieved of his head office duties, the Knicks had the second worst record and the highest payroll in the entire league. Oh yeah, he also hired himself as Brown's replacement. Upon taking the coaching gig, Thomas called his shot and stated that he would bring a championship to the Knicks, which obviously did not happen…not even close. Tales of misconduct have made their rounds, from orchestrating a team brawl with the Denver Nuggets to sexual harassment. If you want to see just how much of a circus it was, check out the article in the NY Times. After being accused of sexual harassment, in which the court ruled in the plaintiff's favor (costing MSG $11.6 million), Thomas was finally given the boot.
Where did he go from there?
In 2009, Zeke became the head coach of FIU, for free. After horrible seasons, hitting the ceiling at 11 wins, he was let go with a record of (26-65).
Changes are coming
We all know that Tom Gores is going to make some changes, likely the day after the season ends. What we don't know is how wise those decisions will be. I can see him hiring Isiah Thomas, and it being a huge disaster. I really hope he doesn't pull the trigger on this one, as it would tarnish Pistons fans' memories of Zeke vs. Jordan and the entire Bad Boys era. Don't kill the legend…hire a proven commodity!
UPDATE: MLive Reports:
"He is not a candidate for any job with the Pistons," Mark Barnhill wrote about Thomas in an email to MLive.

Barnhill, a partner in Gores' Platinum Equity, wrote that he and Gores had dinner with Thomas a couple weeks ago in Los Angeles but the upcoming Bad Boys reunion "was the sole topic. Period."
It would appear that Gores does have a bit of a clue, at least as far as the negative effects of hiring Zeke goes. The rumor began from an anonymous quote from a "league source", which claimed to be someone close to Gores, stating that he was seriously considering offering the position to Thomas. What is more likely, is that somebody saw Gores and Thomas having dinner a couple of weeks ago, and figured it would be fun to start a riot. Either way, at least this rumor let's Gores know exactly what Pistons fans think about the idea…even if it wasn't already on his mind.
What do you think?
Should Isiah Thomas get a shot at running the Pistons organization?
Will an unsuccessful tenure crush the memory of Zeke Thomas?
Share your thoughts!