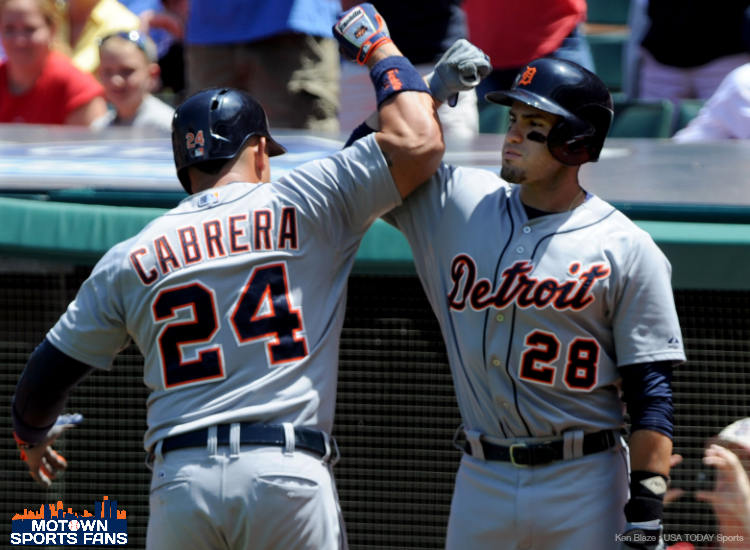 Verlander, Scherzer, Tigers Back on Track- Sweep Tribe
On May 19th, the Detroit Tigers were swept by the Cleveland Indians. The Tigers were flying high, but were derailed by the Tribe, which sent Detroit into a tailspin for a month. It was poetic justice that the Tigers were able to right the ship in the same park that they were sent off-course.
The Detroit starters have each turned in a competent outing, all in the same week. The bullpen has done its job, for the most part, and the bats have come to life. JD Martinez continues swinging a hot bat, as he extended his hitting streak to 12 games, behind a huge, 2-run double to put the Tigers up 5-0. Detroit ended up winning the game 10-4, putting a huge exclamation point on the series. They held a 10-1 leading in the 9th, but gave up some meaningless runs while looking at some new arms. Pat McCoy, who came over from Washington, turned in a scoreless inning, but Chad Smith got dinged up a bit after getting 2 outs.
Everything isn't perfect, but where Detroit wasn't able to find a clutch hit, during the last month, they were able to do so this past week. Verlander looked sharp, striking out 8 over 7 innings. Yes, it was just one start, but he was producing swings and misses where he wasn't able to in his previous starts. It's a good sign, but not necessarily indicative of a complete turnaround yet. Scherzer found his game, after looking human in his last start. Hell, even Phil Coke looked impressive in his 10th inning save, striking out the side after Joe Nathan blew the game on Saturday night.
Blaine Hardy has yet to allow a run, and only gave up a single hit. He's thrown 5 innings, but the first 3 were low pressure spots. That changed on Saturday night, as Hardy was called upon after Alburquerque was unable to retire a single batter. allowing a run and putting the tying run on second. Hardy induced three infield grounders, preserving the Tigers' lead, and stranding Cabrera at third (advanced to 3rd with 1 out).
Sunday's game was one of domination. Miggy got the party started with a first inning home run, but Detroit put up a 7 spot in the 5th, which put the game out of reach for Cleveland. The baseball gods certainly have a sense of humor, as Kansas City was swept at home by Seattle. KC held a 1.5 game lead over Detroit in the Central, just 4 days ago. Now, the Tigers hold a 2.5 game lead over them. My, how the tables have turned, Mr. Bigglesworth.
Food for thought…
Dave Dombrowski isn't going to let the MLB trade deadline pass, without making moves to improve the club. What isn't known are any details of what he's thinking, other than a hint that he's focused solely on upgrading the bullpen, rather than worrying about shortstop. Do you agree with this move? I do, as Jose Iglesias is still considered the Tigers' long-term answer at the position. Paying for a rental at SS, which would only marginally upgrade the team, would be unwise…unless it's Troy Tulowitzki. lol I also don't mind seeing the Detroit team struggle in June, and learning how to overcome some demoralizing losses. Of course, that's provided they have learned. It is much preferred to seeing 20-9 slumps in September! Detroit will capture the Central, and hopefully Dombrowski finds some pieces to push the Tigers to the ultimate goal…a World Series championship!