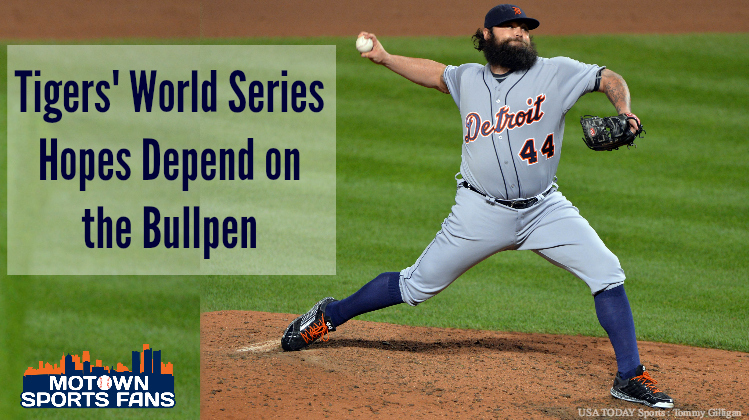 Tigers' World Series Hopes Reside With the Bullpen
Detroit Tigers ace, Max Scherzer, took the ball for game 1 of their ALDS series with the Baltimore Orioles. While Scherzer wasn't at his best, he performed good enough to win, handing the ball over to the bullpen in the 8th inning, trailing by a single run. He gave up 4 runs while he was in the game, but Joba Chamberlain allowed the inherited runner to score, charging Scherzer with 5 total earned runs.
Romine's Error Sets the Stage for the O's
With a runner on second base, Romine booted an Adam Jones grounder. Instead of getting the second out of the inning and holding DeAza at third, the error allowed DeAza to score and gave the Orioles a runner at first with one out. While Romine's error was costly, it wasn't the cause of the Tigers' defeat.
Bullpen Woes Continue
It's been a long season of turmoil for the Detroit Tigers bullpen. For 90% of the season, it didn't seem to matter who was pitching out of the pen, it was awful. Over the last couple of weeks of the regular season, however, it appeared that there was a glimmer of hope. It seemed as though Soria was settling in, Joba was solid, and Nathan even had consecutive 1,2,3 ninth innings. That all fell apart on Thursday night.

Phil Coke has the best ERA of the bullpen, at 27.00. He surrendered a run during his 1/3 of an inning. Chamberlain is sporting a nifty INF, as he gave up two runs, one charged to Scherzer, and failed to record an out. Soria turned in a third of an inning, giving the O's another 4 runs. That give him an ugly ERA of 108.
Had the bullpen been able to pitch competently for 2/3 of an inning, it could have been a very different 9th inning. It's obviously easier to manufacture a single run, as opposed to 9.
Move On
Game 1 was much closer than the score would indicate, but it highlights the flaw of the 2014 Tigers. We've witnessed this team turn it around after a deplorable loss, and they're going to have to do it again. Only this time, they'll have to do it against a division winner. Game 2 is a must win. The bullpen will surely be called upon, only this time they better be ready. Verlander will take the hill for game 2, and he's only made it through 8 innings on three occasions this year.
Which Tigers offense will show up for game 2?
Will the bullpen bounce back? 
The answer to those questions, as well as which Verlander we will see, will determine the fate of this season's Detroit team. Verlander is a big game pitcher, but it's not practical to think he can pitch a complete game. He will face off against Baltimore lefty, Chen. Detroit has hit well against lefties, sporting a better slash line as a team, than versus righties.
Against RHP, Detroit is .274 / .328 / .417. When they're facing LHP, they are hitting .285 / .339 / .451