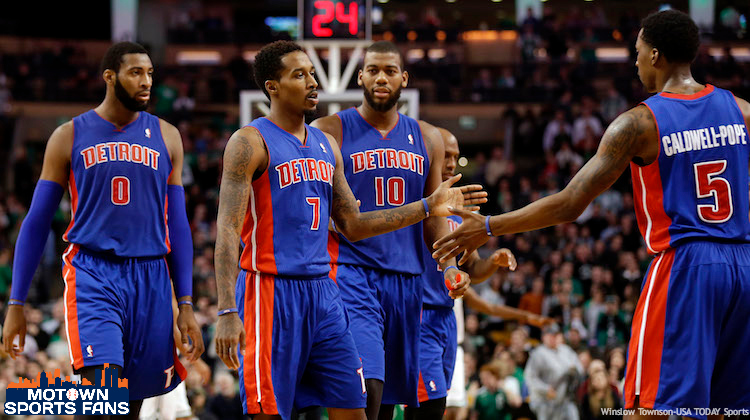 Strategies for This Summer
Currently, the Pistons are really hurting to find the teamwork to produce a run towards the 8th seed that could project them into the NBA Playoffs. They have lost 5 straight but are still only 4 games from the coveted 8th spot. Piston administration could have thrown in the towel a long time ago, but instead they have resuscitated the team to keep things alive.
With the recent trades, many Pistons fans are looking past the playoffs into the future, and wondering what will happen this summer. The current starting line-up of Reggie Jackson (PG), Kentavious Caldwell-Pope (SG), Tayshaun Prince (SF), Greg Monroe (PF) and Andre Drummond (C) have three members up for contract renewals this summer. Monroe and Jackson will demand near maximum contracts. Prince may just be a space holder for the rest of this season or provide veteran depth. What really puts a kink in the process are predictions that the team cap amounts will be increased by around $16M to about $80M starting the summer of 2016. That pretty much forces the Pistons to either develop their own unique strategy or tread water this coming year.
The list of key players without contracts for next year with their 2014-15 salary in parentheses:
Tayshaun Prince: ($7,707,865) Unrestricted Free Agent
Greg Monroe: ($5,479,933) Unrestricted Free Agent
Joel Anthony: ($3,800,000) Unrestricted Free Agent
Reggie Jackson: ($2,325,680) Restricted Free Agent
The Josh Smith Factor:
Josh Smith may haunt us for the next two years. If he gets a decent salary this summer as an unrestricted free agent, his salary would be reduced from the $14M each for the next two years that counts against the Pistons' cap. For example, if he signs a contract for an average of $9M per year, the Pistons would be able to sign another player for $9M per year. Since he knows he has already been paid by the Pistons, it may interest him to get a low dollar salary to join a contending team, like he did this year with Houston. The Pistons hope his temptation is to ask for more money.
A broad brush could paint a picture for the following scenarios to occur this summer and the future of the Pistons:
Option #1: Get It While They Can
Detroit's biggest competitors for free agents are teams that could offer similar contracts, but with greater opportunities for marketing contracts due to being in a larger city. It doesn't help that Detroit, the city, is struggling financially, plus the cold weather would probably be enough reason for most players to not sign. If the Pistons could sign both Jackson and Monroe to near max contracts and blow the bank for one year, they would start the 2016-17 season within range and have the players they want under contract. Yes, the Pistons would pay a serious amount of taxes for being over the cap next year, but also have a very deep team. If done this way, woudl the Pistons save money since the the maximum contract would likely be more the following year when more money is allowable? This option would have a healthy Brandon Jennings, Jackson, Meeks and Caldwell-Pope covering the guards. Drummond, Monroe and Tolliver would continue as their main big-men. It would be ideal to go get a new starting small forward to go along with this core. Coach Stan Van Gundy may also be in search for his ideal "stretch 4". If he finds someone, it may make Tolliver expendable after his contract expires.
Option #2: Tread Water
Another option is to sign Jackson, trade Jennings to get a replacement for Monroe at power forward and sign some players to one-year deals to stay within the cap. Both teams and players would mutually benefit from these one-year contracts. Teams would be willing to pay more after the cap rises, and the players want them to pay more for their services. This would be a boring and agonizing route for us Pistons fans.
Option #3: The Compromise
Maybe a compromise can occur. Can we sign Jackson, Monroe and a starting small forward to a pay reduction in year one, then balloon their contracts in the next year when the salary cap will also increase? Most NFL teams restructure player contracts each year so they can have more financial room to build the team.
It appears most of the changes that team president and coach, Stan Van Gundy has made have actually worked. Waiving Josh Smith was probably the worst case scenario if the undersized-power forward continued to have issues fitting with team chemistry. Trading Will Bynum for Joel Anthony and D-Leaguer Tony Mitchell for Anthony Tolliver were both significant and crafty trades. The deadline trade to get Prince and Jackson was clearly evidence that Van Gundy is planning for the future. Most of the players who left were either not in the Pistons' future, or they had expiring contracts. You can be assured that there is a plan in the mix. Will the Pistons prevail? Many free agents may take greater notice if they make the Playoffs this year.
Can you think of another option for Detroit this summer?
Who do you think will not be on the team next year?
Who will be added to the team next year?