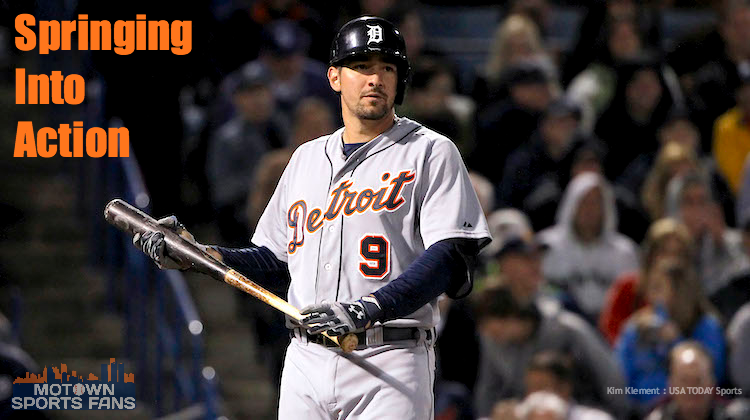 Nick Castellanos: Springing Into Action
Nick Castellanos was drafted by the Tigers in the 1st round (44th pick) of the 2010 amateur draft. When his name was called, his family was extra excited, because most of them live in the Detroit area. Castellanos has spent summers in Michigan since he was 5 .(why summer? 😉 ) Having family close by can only make the transition that much easier.
Heading into the 2014 Spring Training season, Tiger fans were focused on how Nick Castellanos would perform. Sure, there were other issues going on during the off-season, but Castellanos was one of the major question marks, and remains so. Not many question his skill with the bat. At every step, Castellanos has delivered consistent production. With the exception of his graduation to AA, he has been near the top in several offensive categories. Last season, Nick made the jump to AAA, the final proving ground before reaching Comerica Park. He hit 37 doubles and 18 home runs for Toledo last season, to go along with a .343 OBP.
Hot Spring
Going into the 2014 season, Nick Castellanos is the 25th highest rated prospect by Baseball America and 15th by MLB.com. Ok, it's only spring training, but it's bound to put fans at ease to see Castellanos sitting in 3rd on the team for average, hitting .400/.424/.733 with 2 home runs. (Behind Miguel Cabrera and Austin Jackson) It also has to give Nick some added confidence as regular season play draws nearer.
His "D" is the Key
Castellanos played Shortstop through high school, but moved to third at the end of his high school days, and that's where he started his professional career. Due to road blocks in the Tigers roster, he was moved to the outfield for a couple of seasons, impeding his natural progression at the position. On top of that, Castellanos has been scouted as a fringe-average to average defender ability, due to limited range and an average arm. He has put in some overtime in the off-season, getting personal coaching from Detroit's 3rd base coach, Omar Vizquel. He is settling into the position, but his weaknesses are still there. He has a difficult time reading the ball at times, especially with the experiment at LF. Outfielders react differently, especially with footwork. Nick has expressed his struggle with regaining the movements of the position. Despite some of the negative reporting, he has covered the position quite well, but inevitably with some mistakes. He's been charged with 2 errors in 10 spring games.

Conclusion
It's only spring, but that's all of the evidence we have so far. What has impressed me the most about Castellanos, is his approach to the game, especially at the plate. He approaches each at bat, as a single event, rather than allowing previous plays or at bats affect his mental focus. Castellanos will have ups and downs as all rookies do, but he has the ability to become an important offensive contributor. He'll also be slotted in the lower half of the lineup, further reducing any pressure to perform.
What do you think about Castellanos' spring performance?
Can he carry his spring success into the regular season?
For a limited time, you can save 40% on Tigers apparel and other items at Fanatics! Each month, we will draw a random name from all members of the email list and commenters, and award a $25 eGift Card for use at Fanatics!