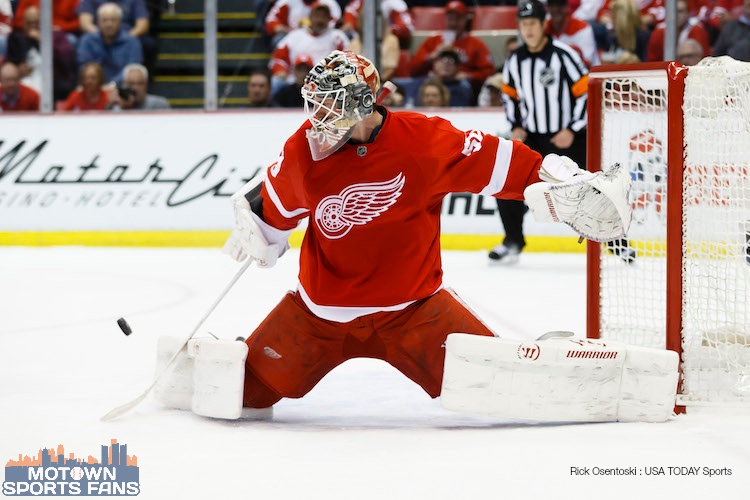 Gustavsson to Start Game 5 for the Red Wings
Jonas Gustavsson aka MONSTER, will once again be between the pipes in game 5 for the Detroit Red Wings. Jimmy Howard has already been ruled out as the starter, due to "the flu". Gustavsson was serviceable in game 4, and coach Mike Babcock praised his play in the post-game remarks. I must've been watching a different game, as I saw a goalie who was obviously amped up, which displayed itself in the over aggressive style of play. He was way too far from the net on several shots, and also provided numerous second chances by allowing too many rebounds…which isn't  a good thing when you're so far from your net. This creates those wide open chances, such as those missed by the Bruins' Marchand.
Don't get me wrong, Monster has played phenomenal games during the course of the regular season. I understand his anxiousness to play well, which likely led to his haphazardness in game 4. He was great with making the initial stops in game 4. If he can stay home and soften his body a bit, that should cut down on the rebounds. There is something to be said about the way the team plays in front of Gustavsson. For some reason, the defense is much tighter and more responsible.
The flu…Really?
Mike Babcock stated in the post game comments, "They just came and told me he was sick and couldn't go." He also said he wasn't aware of Howard's illness prior to that moment, that Howard was on the starting lineup, but the referees came and notified Babcock that he had the wrong goalie on the ice. Babcock said, "We changed it, it was last second. He just couldn't go.". This causes me to question the truthfulness of the illness, and I wonder if this was somehow a backdoor way of pulling Howie from the series, without causing the media distraction that making such a statement would create. We're a day and a half away from game 5, and Howard has already been ruled out as the starter, but somehow expected to be available as the backup. I see this illness as a smokescreen. I say, for one reason or another, Howard was lifted in favor of Gustavsson. Babcock also said last night, "Gus played good, so we'll decide on that". Either way, Howie is out and Monster is in. Hopefully, we see an effort that is reflective of the situation they are in. The Wings need a gutsy performance from their veterans, despite their injuries, and from their youth, despite their inexperience.

Promotion: Show your Red Wing pride with an authentic, licensed jersey! Pavel Datsyuk jerseys are the second most popular jersey in the league! Order now, and have it in your hands in just a couple of days. 

Let's GO RED WINGS!
UPDATE:[9:00 pm] Looks like we can throw the suggestion of a conspiracy theory out the window. The Wings have called up Jake Paterson to backup Gustavsson in game 5.
Which goalie would you rather start in game 5, provided both were healthy?
Do you think the Red Wings will win game 5?