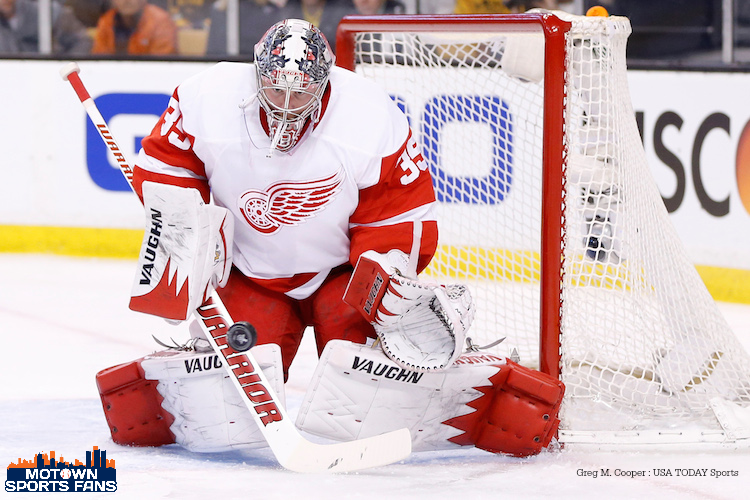 Howard, Red Wings Play Boston Strong
Within the first two minutes of game 1, Jimmy Howard's number was called, and he answered. The Bruins pressured the Detroit defense early, but Howard stood tall, and he would ultimately stop all 25 Boston shots. Despite Howie's heroics, the Red Wings won game one, not due to the play of any individual, but because they flawlessly executed their game plan.
Why Detroit Won
Discipline: The Red Wings drew only one penalty. How do you defend the league's best power play, stay out of the box. Not only did Detroit not allow the Bruins players to get under their skin, they also played exceptional team defense. This was not the Red Wings of the 2013-14 regular season…this was the 2014 playoff version! We didn't see the terrible third period play, no instances of allowing Howard to get peppered with shots. After 23 years, would you expect anything less?
Coaching: Julien is a good coach, Mike Babcock is a master. There isn't any other active coach, who could take a team comprised of 50% AHL players to the Stanley Cup Playoffs. Not only did they make the playoffs, but they showed no signs of being content with simply continuing a 22 season streak of postseason appearances. They came prepared. When Bruins players were taking cheap shots to the groin, Detroit players did not allow themselves to become distracted. The objective was to win the game, not to get even. This cannot be emphasized enough. It's one thing to coordinate lines, PP and PK units, and defensive strategies, it's a totally different thing to effectively manage 23 individuals.
Promotion: Show your Red Wing pride with an authentic, licensed jersey! Pavel Datsyuk jerseys are the second most popular jersey in the league! Order now, and have it in your hands in just a couple of days. 
Sure, Jimmy Howard stood on his head when needed, and Datsyuk laid a sick move on the Boston defense, but without a team commitment to the system…we would be mourning a game one loss, instead of reveling in a stunning victory. With the win in game one, the Red Wings are now 7-1-1 in their last 9 games against the Bruins. Their performance was so convincing, I'm reversing the prediction that I made in my series preview. I'm now convinced that Detroit will win the series. I felt dirty for projecting a 7 game Boston win, despite yearning for a Red Wings victory. I'll sleep better tonight!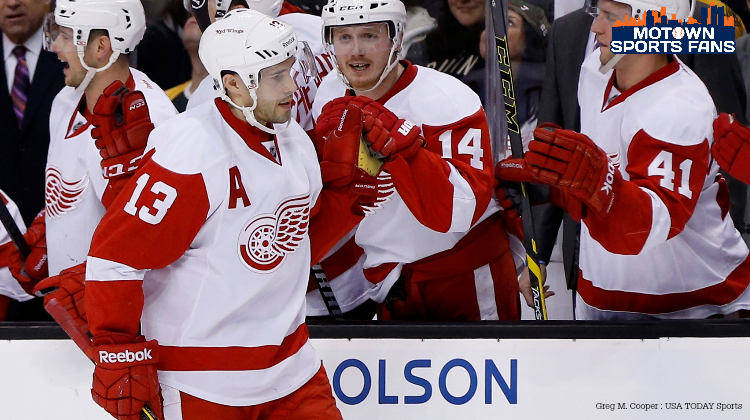 Why Boston Lost
They had exceptional goal tending, physical play, and a nice shiny President's Trophy, so why did the Bruins lose game one? Boston came out flying, but after the first ten minutes of period one, the pace of the game was visibly wearing on them. They allowed Detroit to carry the play for a huge majority of the game, and they simply could not contend with the team speed that the Red Wings possess. Speed aside, the veteran players that may have lost a step, have the ability to glue the puck to their sticks. The remarkable puck control skills of the experienced Wings is mesmerizing.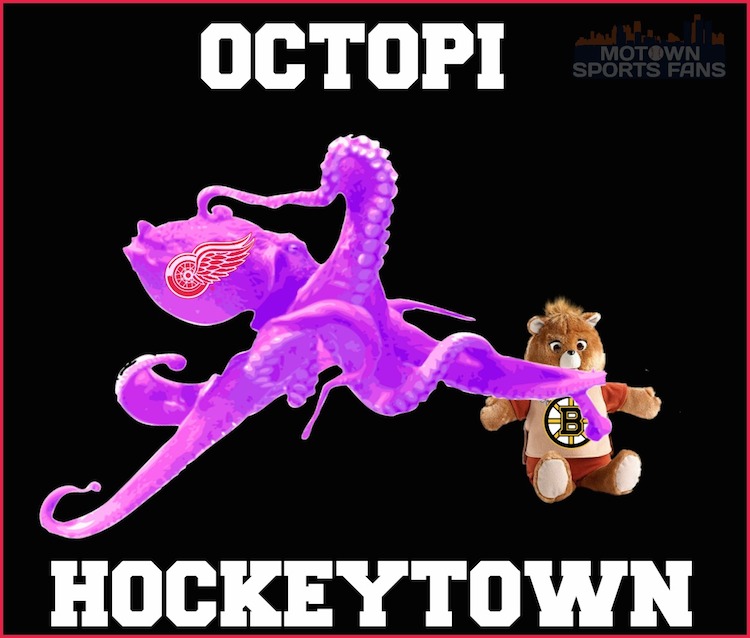 Where Do We Go Now?
It's only one game, but it's more than just one game. Prior to game one, all of the "experts" proclaimed that Boston would take down the Red Wings. Boston won the President's Trophy, and Wings fans remember how much that means in the playoffs. 😉 Boston was an overwhelming favorite to win the 2014 Stanley Cup. All of those expectations are now working against Boston. They've dropped game one, versus the 8th seed, at home. Right now, they are sweating about taking the ice on Sunday afternoon. Friday night was just one game, but game two is now a "must win" for the Bruins. They are under intense pressure to win, while the Red Wings are eager for game two. At worst, they've gained home ice in the series, and have at least momentarily hushed their critics. Nobody, with the exception of us Red Wings fans, thought Detroit could take down the Bruins. All of those people, as well as the "Howard Haters", now have their feet in their mouths. It's one game, but you have to win one before you can win four.
Your Turn
What did you think of game one?
What's your prediction for the rest of the series?