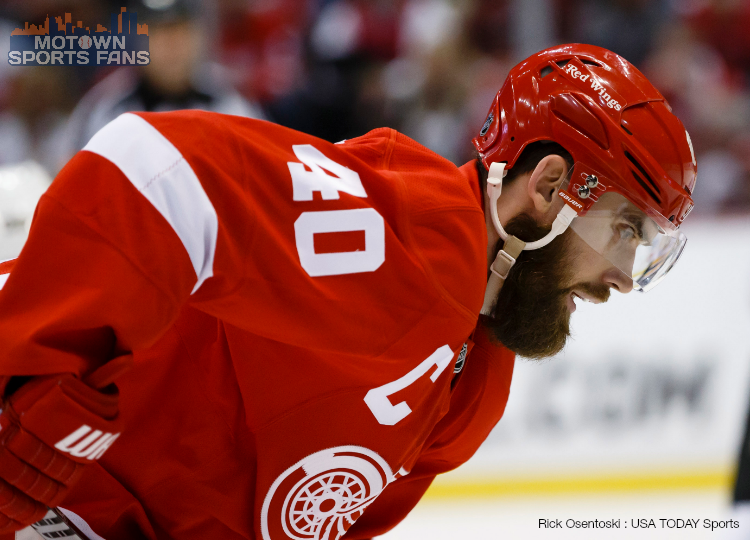 Gut Check Time For the Detroit Red Wings
In game 1 of their series against the Boston Bruins, the Red Wings were focused, poised, and clearly the better team on the ice. It has been the complete opposite since that game. Sure, they've been able to play competent hockey for a a period or two, but games 2 and 3 were very difficult for Red Wings fans to watch. Game 4 looked to bring a different story, however, the end result was the same as the previous two games. Game 4 saw the Red Wings break out with a 2-0 lead, only to fall 3-2 in overtime.
Why are the Red Wings Losing?
Many fans of the Red Wings, who happen to know very little about the game of hockey, will say that they are losing because of poor officiating. Others blame Jimmy Howard. They're both dead wrong.
The Red Wings are losing, because Boston is being allowed to force their game plan, while some of the Red Wing players are disregarding their team's strategy. Boston is the more physical team, and they want to keep the Wings along the boards. Boston plays a trap style, where they stand their opponents up at the blueline. The Wings are supposed to be breaking out as a 5 man unit, rather than taking chances by passing to a headman, who is 100 feet away. These passes are being picked off and turned into offensive chances and odd man rushes for Boston. When the pass does connect, it creates a 1 on 4 or 5 situation. Not ideal to say the least. This is what has happened in all of game 2, the first half of game 3, and since the late second period of game 4.
In the first period of game 4, it appeared that there was a renewed commitment. The Wings imposed their style on Boston, keeping their offense in the middle of the rink. Justin Abdelkader and Todd Bertuzzi were excellent in providing a distraction in front of Boston Bruins goalie, Tuuka Rask. You can't stop what you can't see. Traffic in front also creates a greater chance of goals from a rebound or redirection as well. (Much like the OT winner by Iginla)
Gustavsson wasn't the reason for the loss in game 4, but he wasn't on his game. It seemed like Jonas Gustavsson was wrapped in trampoline material, as every shot created a huge rebound. He was fortunate on several occasions, to have so many Boston players miss completely wide open nets. Gus was so aggressive in his positioning, that he was often far out of position, especially after allowing those five and ten foot rebounds.
Where are the young guns? A huge reason the Red Wings qualified for the playoffs, was due to extraordinary play from their young players. Most notably, Tomas Tatar and Gustav Nyquist. Those two, as well as Sheahan, DeKeyser, and Jurco have combined for a total of zero points in this series. In fact, the only member of the freshman class who has a point is Luke Glendening, who happened to have a Darren Helm shot bounce off of his hand and into the net. These guys have all played exceptionally well during the regular season, but Detroit is in desperate need of some production in this series…or in the words of Apollo Creed, "There is no tomorrow!".
The Return of Z
We were all hoping that this would be the "triumphant" return, but that wasn't to be. Against all odds, and my own definitive prediction, Zetterberg dressed again this season. He looked much better than I had thought he would, during period 1. As the game wore on, however, he was clearly struggling. I am in no way putting him down, as I didn't even think he would be able to skate in a game until next season. The guy hasn't skated in a game for months, and couldn't even walk a couple of months ago. It was incredible to see him and his Yukon Cornelius beard on the ice again!
It Ain't Over Until it's Over
I'm not delusional. I know it is an extremely ridiculous long-shot, but Boston still has to win another game to beat the Wings. Game 4 was as close to a "must win" as it gets without being an elimination game. Hey, the Red Wings lost a series to Chicago last season, when they were up 3-1. Why not be the recipients of a little payback from the odds gods? To do that, the Wings need to put forth a 100% effort for the entire 60 minutes…make that 180 minutes. Something rarely seen this year.
What to Address for 2014-15
Promotion: Show your Red Wing pride with an authentic, licensed jersey! Pavel Datsyuk jerseys are the second most popular jersey in the league! Order now, and have it in your hands in just a couple of days. 
Defense 1: Yes, the future is bright, but there are some clear needs to address. We have a ton of young talent up front, but the Detroit blueline is in need of some size and skill. Kindl makes me throw up…every. single. game. Whether it's a 150 foot pass, no look passes into the front of his own net, or simply standing still like a giant, red pylon, his play is suspect at best. Kronwall is the only current 'gamer' on D. DeKeyser is up and coming, and often shows his potential, but he shouldn't be the team's second best defenseman right now. Brendan Smith has been pretty solid as well. Other than Kindl, I'm not overtly pissed off about any of them, but there isn't a player that makes the other team think. No intimidation or respect. The Wings need to acquire a true number one D man.
Goalie: Jimmy Howard has been a solid goaltender. The 2013-14 season has been a struggle for Howard. He's had the flu a couple of times, as well as injuries. He is only 30 years-old, and he's only experienced one rather forgettable season. Unfortunately, when you've only played 5 seasons, your most recent one is what defines you. If the opportunity to upgrade presents itself, Detroit will take it. On the other hand, who are the game's elite goalies? When you look around the league, you see that all of the top tier net-minders are playing for contending teams. What reason would those teams have for parting ways with their most scarce commodity? I don't see a scenario where the Red Wings begin the 2014-15 season with anyone other than Jimmy Howard between the pipes. He has the tools, and with the right team in front of him, he can succeed.
Dead Weight: With the emergence of youthful, hungry players, comes the need to dispose of those who are underperforming veterans. Johan Franzen, who appeared to be a world beater in his first week after his long injury hiatus, has settled into a role of just taking up space. Kyle Quincey, Stephen Weiss (although who wants him now?), Jakub Kindl, among other candidates, can take a hike. I respectfully thank "The Mule" for his output in storied seasons past, but it is just that…the past. Time to move on.
Do you believe Detroit will win game 5?
What should the Red Wings do before the 2014/15 season?