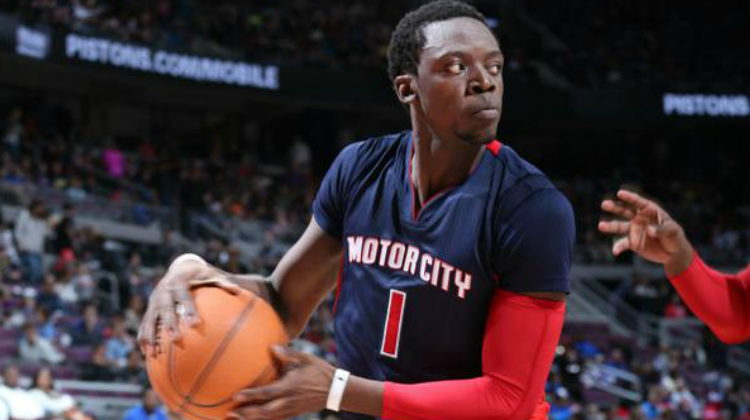 Four Games with Reggie Jackson. Are The Pistons Any Better?
The Pistons' brass were slapping each other's backs after pulling off a great trade to solidify their point guard position for the rest of the season. However, in obtaining Reggie Jackson, they had to give up their then starting point guard, DJ Augustin, and small forward, Kyle Singler. Neither would typically start on half the NBA teams. Augustin was not the best option moving forward with coach/president, Stan Van Gundy, desiring to build for the future. This involves getting young studs in for a long run towards a championship. Augustin was a liability on defense but did a great job filling in for previous starting point guard, Brandon Jennings, who injured his Achilles heel a few games before the NBA All-Star break.
Jennings vs. Jackson
A point guard needs to know the playbook and also where each of his teammates likes the ball and in what manner. These are things that Jackson has not come accustomed to yet. This will develop with time, but there is some serious growing pains happening right now since Jackson is expected to steer this ship. Recently it can explain why the Pistons have lost the last three games.
Earlier this season, Reggie Jackson had taken advantage of his opportunity with the Oklahoma City Thunder when All-Stars Kevin Durant and Russell Westbrook were out injured. Jackson was given just under 40 minutes per game and ran the offense to his liking. He averaged 20.2 points per game, 7.8 assists, hitting 42% of his 18 shot average per game. This may have caught the eye of Van Gundy. After Durant and Westbrook came back he went back to the bench and only received 24 minutes and 9 shots per game. Jackson is a pick n' roll genius that most likely will show with the Pistons. For the record, Jackson's spot up shooting is only 28.6%.
Brandon Jennings was finally playing at the top of his game when he got injured. Was Stan Van Gundy finally being the coach he needed? He never played for a college team, where most players get their fundamentals. He came on the scene with Milwaukee with a chip on his shoulder and everything to prove. Some thought he had an immature attitude that was never going to be tamed. By the looks of things, his attitude gelled quickly with the team after Josh Smith was waived. Jennings either felt it was finally his team at that point, or that he may be next to go. Time will tell which was the truth. His stock could not be higher despite his injury. There were rumors of trading Jennings and others for All-Star Joe Johnson, but the trade fizzled out.
Reggie Jackson debuta con Detroit Pistons – VÍDEO: http://t.co/dRRBWtr07p pic.twitter.com/Z1rak2C9dA

— basket4us (@Basket4us) February 23, 2015
After 4 games with the Pistons the two point guards' numbers are comparable for the most part in points and assists per game. Jackson averages much more rebounds, and Jennings leads in steals. The biggest difference is the shooting percentage. Jackson had to take more shots in order to get his points. Jennings averaged over 40% from the field and Jackson so far is at 33%. It doesn't help that Jackson went 0-8 to start his first game as a Piston. He also was benched for the 4th quarter against the Wizards since it was his second game with poor shooting. After Saturday's game the Pistons have three days off until they play again on Wednesday. This may be where the team gels with their new point guard.
What Happens This Summer with Jackson?
It concerns most Pistons fans that Stan Van Gundy is moving on without Jennings for the future. Anyone who has done their research on Jackson knows he expects close to 4 years and $48M on his upcoming contract. This may be a problem if Jennings can play mid-way through the next year, but Jackson would make significantly more money. Jennings is due for his payday the following summer. This may get very dicey.
This past month while with the Thunder, Jackson demanded a trade so that he could become a starter. This open demand may point to immaturity and selfishness. I wonder how Jackson will handle coming off the bench for Jennings? Or, how will Jennings handle coming off the bench for Jackson? Or, will Van Gundy tinker with Jennings and Jackson playing the guard spots together? Would that place Caldwell-Pope at small forward? The options are endless, but can a healthy Jennings and Jackson co-exist for the longterm?
What Will Happen in the End?
Van Gundy has many options at the present and options are a lot better than no options. Some rumors have stated that Jennings is desiring to sign with the Los Angeles Lakers. Maybe a trade can occur sooner than later. My gut feeling is that his days as a Piston are limited. Will it occur this summer, or at the end of his contract? Much will depend on trade opportunities, how fast Jennings heals up, and if rookie Spencer Dinwidde continues to shine.
Is Jackson worth around $12M a year? A better question would be if there is another young and talented point guard willing to sign with the Pistons. Can the Pistons afford not to sign him? The stage is ready for Jackson to show his stuff. By the end of the year, it will be very clear how valuable Jackson is worth to the Pistons.
What are your thoughts?
Will the Pistons sign Jackson this summer for near maximum amount?
Will they sign both Jackson and Monroe to similar contracts?
Who will be the starting point guard for the Pistons a year from now?
Will money or ego prevent the Pistons from gaining depth at the guard position?