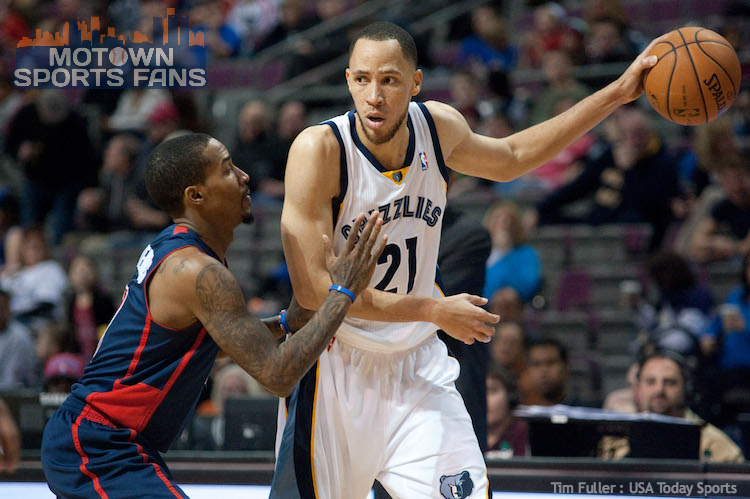 PISTONS READY FOR PLAYOFF PUSH
Last Thursday the Detroit Pistons made a huge splash at the NBA trade deadline, but will this cause the team to sink or swim? Coach and General Manager, Stan Van Gundy, decided to continue the efforts towards obtaining a playoff spot, rather than tank. Excuses to tank could include the release of the Pistons' highest paid player, Josh Smith, or a season-ending injury to the second highest paid team player in Brandon Jennings, who could be credited with most of the reason the team excelled the last portion of the first half of this season. These salaries that are not being used for the rest of the season, make up over one-third of the team's overall salary. It takes Van Gundy's heft to even think about playoffs under those circumstances.
Deadline Dealing
Detroit had to give up starters Kyle Singler and DJ Augustin, along with Jonas Jerebko, and two second round draft picks in order to get Tayshaun "The Block" Prince back in a Piston uniform and the buried point guard Reggie "Mr. June" Jackson. Singler and Jerebko had expiring contracts after this season and Augustin was one of the first free agents signed under Stan Van Gundy's reign. The Pistons got a little cocky with the two second round picks since they come in 2017 and 2019. The Pistons bet the farm that the team would be one of the top teams and those picks will be very low, which will provide a bench player at best. It is much better than the first round draft pick that was sought after.
Observations
Reggie Jackson will be the starting point guard as DJ was traded and Jennings is injured. This solidified this position. It would otherwise be filled by a previous international veteran and rookie. Jackson will be a free agent next year and will have the opportunity to show teams what he can do, and how much he is worth. The Pistons get a person with a chip on his shoulder and has everything to prove. If this experiment works, he just may be a key player on next year's Pistons team.
Is the small forward position solved? It "Depends" (undergarment). Tayshaun Prince and Caron Butler were both born in 1980 and should be able to cover around twenty minutes each. The question will be, which will start and which will come off the bench. It would make sense that Butler starts until Prince clearly shows he is superior. No one should hold their breath, however. This is NOT the same Prince who was part of the 2004 Championship run. It is Prince with a decade of further wear and tear on his body.
Jennings appears to be the odd man out for next year, or is he? If Van Gundy can rotate Jennings, Jackson, Meeks and Caldwell-Pope for guards like he rotated Monroe, Drummond, Tolliver and Jerebko for the bigs earlier this year, it just might work. This demands that egos need to be checked at the door and ultimately results in a deep team. We don't know when Jennings will be back from his injury. It may take further time to get into game shape too.
Stan Van Gundy is preventing injury from dictating how well the team plays. In recent years, we have seen teams become affected significantly when their star player goes down for the season. Paul George of the Indiana Pacers and Derrick Rose of the Chicago Bulls are good examples, leaving their teams to barely make or miss the playoffs. Van Gundy appears to strive for a deep team so that when life happens the team is still in good shape.
The Pistons can work on recruiting and solidifying the team for next year. They needed solid players at point guard and small forward. With Prince, Joel Anthony, Greg Monroe and Reggie Jackson being free agents this summer, the Pistons have a lot of money and options. If Prince or Anthony leave they can be easily replaced. If Monroe follows more money we may be able to upgrade the position as a large list of great power forwards are available (Zach Randolph, Draymond Green, LaMarcus Aldridge, and others) and some with ties to Michigan. Monroe and Jackson look to increase their salary this summer. Most people don't believe they are worthy of a maximum salary. With the salary caps expanding in 2016, it just takes one team to offer a max salary and it may just be Detroit. If they end up somewhere else, it is always possible to get a sign and trade in the works. This is how we got Ben Wallace in the past.
Expect some growing pains. The Pistons won against the Washington Wizards by seventeen points. They are ranked #5 in the Eastern Conference. The first quarter was very disorganized with Jackson trying to lead a team he just met. He missed his first eight shots, but ended up putting together a good game with 17 points (39% shooting percentage), 5 assists, and 5 rebounds with 3 turnovers, in 30 minutes of play. When Prince starts playing it will be a little more disorganized. Quincy Miller was also added from the D-League, which opens up yet another option for small forward in the future. All the changes will eventually settle down, but not without some growing pains.
Who do you think will start at point guard next year?

Do you think Monroe and Jackson will get maximum salaries?

Do you think the recent trades will hurt or hinder the Pistons' chances for making the Playoffs?

How far do you think they will do in the Playoffs?