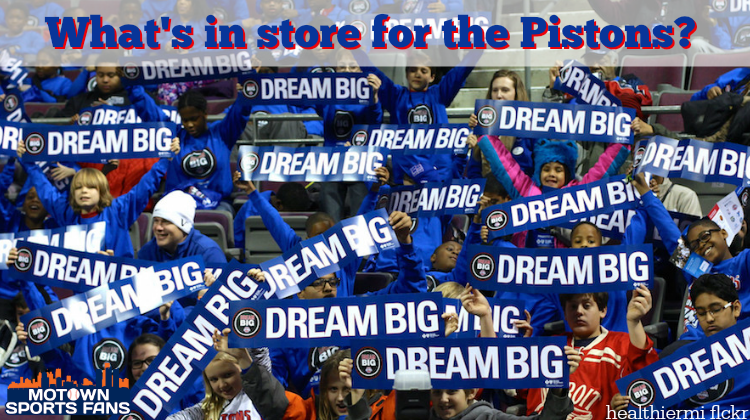 Detroit Pistons: A Look Back at the 2014-15 Season With Questions
As we watched the last Pistons game of the year, we can't help but wonder who is going to be with the team when the preseason games begin next year. Already the team sent Josh Smith packing after eating his huge contract so that Houston can potentially go a tad further into the playoffs. The rich get richer mentality is alive and well in the NBA. Kyle Singler, DJ Augustin, and Jonas Jerebko all were traded in order to upgrade the team for the future.
Will free agents Reggie Jackson and Moose Monroe sign a large contract? Does Stan Van Gundy (aka SVG) regret sending Singler to the OKC Thunder and attempt to get him back for his "3 and D" (3 pointers and defense) talents? Some think he would be a great backup SF, or at least fill the starting role if an SF is picked in the upcoming draft.
Looking back, SVG looks like a stud for politely asking Josh Smith to leave. Are you surprised that there wasn't any more drama than there was? I'm impressed there wasn't.
The question everyone should be asking is "Does SVG trade for Reggie Jackson if Brandon Jennings doesn't suffer a season-ending injury?" Why would he, right? What does he plan to do in a year when he may have both Brandon Jennings and Reggie Jackson healthy? Oh, and a young point guard in Spencer Dinwiddie, who has a lot of potential, would be the third, point guard? SVG may consider a 2-point guard system, but then where would Kentavious Caldwell-Pope (aka KCP) and Jodie Meeks go for minutes? With how much the Pistons depended on the 3-point shot this year, SVG could run various guards in the mix to see who has the hot hand. Too bad KCP isn't a little thicker and taller. He could do wonders to fill our SF position.
Based on sports articles that have been written recently, it appears that Monroe is gone and Reggie stays. Word on the street is that the Pistons will have a limit on how much they will offer Monroe. They will say that they want him back, but they will continue to refuse to overpay him. He would be great as part of a 3-headed monster with Andre Drummond and a stretch 4 power forward. He is not a max player, but will be offered max money by the New York Knicks and many other teams because of his size and stats.
Free agency and the draft should buy a good power forward and small forward. Let's all hold our breath while SVG tries his hand at selecting a first round player. If he is worth his weight in gold, he would draft a player in the second round who gets some playing time.
I must admit that I predicted 40 wins for the Pistons this year. I fell short only 8 games. If Jennings didn't get injured, I truly believe they would have made the playoffs and my prediction would have been right. The Jackson trade would never have happened. I am predicting 42 wins next year. It will be a wild ride and a lot of my prediction is based on my trust in SVG and his track record so far. The shadow of the past is gone and the Detroit Pistons will find glory in the near future.
Your Turn
What are your predictions?
How many games will the Pistons win next year?
Will Moose and Jackson stay?
What will happen with our point guard logjam next year?