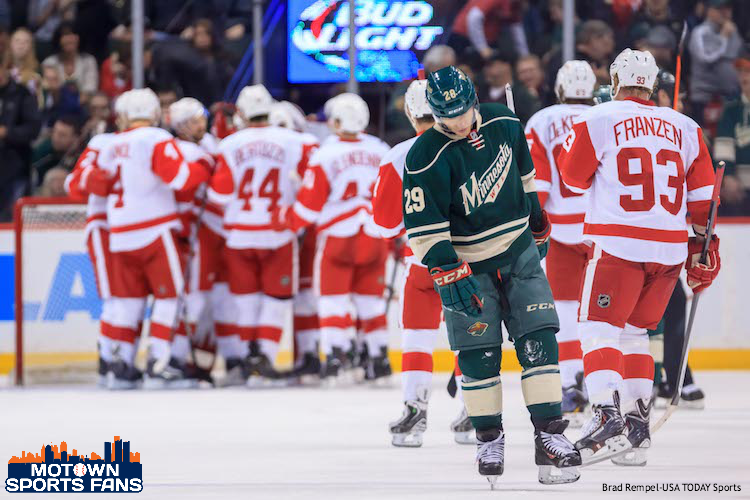 6 Reasons Why the Detroit Red Wings Will Make the 2014 Playoffs
There have been many dark moments this season for the Detroit Red Wings, namely the plethora of injuries to key players. Zetterberg, Datsyuk, Cleary, Weiss, Andersson, Ericsson, and Gustavsson to name a portion. I'm on the record for predicting a 23rd straight playoff appearance for the Red Wings (after the loss of Datsyuk and Zetterberg). Despite the many disappointments in 2014, there are some underreported positives.
The Current NHL East Playoff Picture
Four teams are in the running for the 2 wild card spots in the NHL East. Toronto (80 pts) currently holds down the 7 spot, followed by Detroit (79), Washington (79), and Columbus (78).
Reason 1: Pride
Since the Red Wings shut down Pavel Datsyuk, the Red Wings are 5-3-1. They have a record of 4-1 since dropping a key game to Columbus, including their current 3 game win streak. Detroit is showing their heart in the face of adversity.
Reason 2: Gustav Nyquist
Who the hell does this guy think he is? With 28 points over his last 26 games, Nyquist is rising to the top. Gus has scored at least one goal in his last 4 games, and has become an important piece of the 2014 puzzle.

You can order a personalized Detroit Red Wings jersey! You choose the name and number you want, and Fanatics will produce it for you! Use your own name, or choose your favorite Wing. Perhaps a Nyquist jersey? 😀
Reason 3: Contributing Youth
The Red Wings are notorious for holding back the youth in the organization, in favor of veterans. This season has forced their hand, and there have been some pleasant surprises. Of course, we knew they were talented, but what wasn't previously evident, is their ability to make significant contributions in meaningful games. Notable first and second year players have been Gustav Nyquist, Tomas Tatar, Brendan Smith, Riley Sheahan, and Danny DeKeyser.
Reason 4: Remaining Schedule
There are 4 teams that are competing for the two wild card spots; Washington, Toronto, Columbus, and Detroit. The Wings will face teams with a higher winning percentage, compared to their wild card competitors, but how that schedule is arranged is going to become a factor. The Red Wings will play back to back games three more times over the course of their 12 remaining games, but they also enjoy two day breaks a couple of times as well. The Columbus Blue Jackets finish the season with a stint of 4 games in 5 nights, with the final three coming on the road. Detroit will also face Columbus and Toronto one more time before season's end.
Reason 5: Games At Hand
Of the 4 remaining teams, Detroit and Columbus have the most games left to play with 12. Washington and Toronto only have 10 games remaining. Referring to my point about Columbus' remaining schedule, they play back 2 back nights on 4 occasions, with 4 in the final 5 days of the season. If the Wings can beat them when they face each other on the 25th, they will have an incredibly difficult time making up those points. That would leave Detroit with having to beat out Toronto or Washington to attain their 23rd consecutive playoff berth. Detroit will face Toronto on the 29th, a Red Wings win there, and the Leafs will likely fall out of contention.

Reason 6: Momentum
Detroit is currently riding the crest of a 3 game winning streak. It may sound insignificant, but it certainly is not. The Wings haven't won 3 consecutive games since November. They are in 'gut check' mode, and they're finding ways to win games they were losing earlier in the year. Toronto is mired in a four game losing skid, and after suffering an emotional defeat to Montreal, they are traveling to play tonight on the road.
Conclusion
As you can see, right or wrong, I'm not backing down from my earlier claim that the Red Wings will continue their playoff streak. While none of the reasons above, on their own, fully support the prediction, when weighed in their totality, it is the logical outcome. If nothing else, you know which teams to cheer against. 😉 The Red Wings will be in the 2014 Stanley Cup playoffs, and once you're in…you never know what can happen.
Questions for you
Do you think the Red Wings will make the playoffs? Why?
Which of the 3 other teams pose the most threat to Detroit?